Nora was six months into her new role as the VP of Sales for a learning and development organization. Her 15-year career at a large pharmaceutical company in leadership and strategy would be an asset; she was just the right person to meet the challenge of growing the company by 100% over the next three years. It was a big, bold, and ambitious target and she was excited for the new possibilities the role would give her and the impact she'd make.
 
In her first 90 days, Nora got to know the business, the people, and her customers. She assessed the opportunities and gaps in the marketplace and conducted a competitor analysis. She identified the needs her company could meet and developed a strategy to deliver on her mandate to double the business. The company's leadership team was ecstatic about the new growth opportunities and plan she set out for them. The sales plan was given a green light and Nora was on top of the world. She could not wait to put her strategy into action.
 
Within a few short months, Nora's excitement and enthusiasm waned. She was exhausted from the long hours, frequent meetings, and day to day demands from her team. She started missing her morning walks to get an earlier start on her inbox, and cancelled her weekly lunch date at the gym with her trainer. There was too much to do, and the guilt of taking time out of her day to work out felt heavier than the five pounds she had gained since starting at the new company.
 
The wheels of her growth plan were in motion but were moving at a snail's pace. This was something she wasn't used to. Her high-energy, results-oriented, and action-minded leadership style was exactly what the company needed and hired her for, as these attributes were missing from their leadership team. The company didn't have structured sales goals or accountabilities nor an intentional strategy on how to grow the business. They were used to going with the flow, attending a few conferences a year, and banking on client repeat and referral business to hit their goals. But things were different now: the company wanted exponential growth, and Nora was their golden ticket to help them get there.

She was feeling the pressure to perform and produce, and the team's initial positive response moved quickly into tepid waters. She was taken aback by their sudden resistance as she began implementing their strategy. Nora's growth plan was asking her colleagues to take on new responsibilities and commitments. They were being invited to change. A little voice was telling her that her plan was good to go as long as it didn't interfere with their plans, but now it was.
 
Things were not feeling as good as they once did. Nora was questioning herself, her plan, the company, and the responsibility. Why did she sign up for this? She had a good, cushy job with her previous employer, and here she was, starting from scratch, proving herself and her value in a new company. This wasn't how it was supposed to go.
 
But what if it was?

The law of polarity is a universal law that states there's an opposite for everything that is necessary for balance to exist. You can check out last week's post about balancing Yin and Yang here. Duality is in everything, and your life is created from the interaction of these opposite and competing forces. In Nora's situation, there were a multitude of opposites occurring that were contributing to her experience.

Her excitement and enthusiasm for her new role shifted a few short months later to overwhelm, exhaustion, and overwork. Her team's initial positive reception and agreement for the new sales strategy, quickly turned into resistance and reluctance. Her consistent daily walks and weekly gym visits vanished as her calendar filled up with work and family demands. Now, think about a time when you were excited about a project, promotion, or a goal. How long did it take for the opposite to appear?

I recall a job at the bank I was hired for. I was coming from another organization and got the job because I was different from the group of leaders I'd be working with. Many had decades of experience with the company and in their roles. Plus, I wasn't a traditional banker. I offered new ways of doing things and ways to solve old problems. Creativity, while appreciated, wasn't always easily accepted in the financial services world. I was five months into my role when my manager was feeling the pressure from his boss about our region's performance. I was leading the largest team and book of business for the region and if we did well, so did the team. I was the newbie with the biggest impact on results, so I carried an extra load of pressure on my shoulders. That performance pressure had my manager institute a regimented and controlled sales management system. There was no allowance for out of the box thinking or innovative solutions. Everyone was required to follow the rules, be the same, and you had no permission to colour outside the lines. What once felt like an open, optimistic, and inspiring workplace shifted to something I was beginning to regret being part of.

As with Nora, we both found ourselves in situations that were the opposite to what we had initially signed up for. Now, it would have been easy to bail, find another job, or just go with the flow we were being given. For Nora, that would have meant continuing to work longer, taking the foot off the pedal of her growth plan to keep the team from feeling the bumps of change, and giving up on her self-care rituals. For me, it would have meant going with status quo and shoving any new ideas and inspirations deep into a closet where they could not see the light of day. The point is that the obstacle you face that shows up contradicting what you wanted in the first place, does not mean that something is wrong or broken or that you must run or fight it. The world is not against you even though the deck feels like it is. It's because of this contradictory circumstance that you get to be the very thing you want; actually, you end up creating something even better because of it.

Nora moves forward by delegating work to her team and hiring more resources. She gets others to help using their gifts and talents. She spends time with her leadership team to connect and understand them and their needs. She strengthens her relationships and gains buy in for her growth plan, to the point where they are championing it more than she is. Nora finally reads the 'Setting Boundaries' book on her nightstand and learns how to declare her desires, so her daily walks and workouts are back in her calendar. For me, I found my voice and shared my discomfort and troubles with the instituted micro-management approach. Somewhere deep in my closet I found the courage to express my point of view even if it meant I'd lose my job. I didn't lose my job and instead got to bring more of myself and leadership that resulted in a stellar performance for my team that year.

We need to stop making up stories that something is wrong and needs to change to get things to how we want them. Instead, we look at the friction and see it as an invitation to bring exactly what we want more of. The tension isn't comfortable, but it is there to serve who you are here to become and the impact you are here to bring.

Where are you feeling tension right now because the opposite of what you want is occurring? Stay tuned as next week as I share more about how to manage the tension when things are not going your way.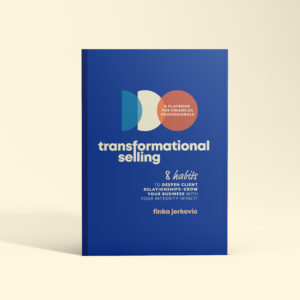 Have you checked out my new book yet?
Transformational Selling: 8 Habits to deepen client relationships + grow your business with your integrity intact!
This book offers you eight habits that will help you:
Unlock the power of Your Brilliant Difference
• Stop letting fear get in the way of your business development activities
• Feel authentic and aligned to your values every time you sell
• Create invitations and ask for the business with confidence and integrity
• Establish a people + purpose = profit mindset
• Build a financially sustainable business you and your clients will love
You can get your copy here.
If you're ordering more than one copy, be sure to take advantage of these special book bonuses. Learn more about them here.
I can't wait to hear from you and the stories you'll share because you've chosen to become a Transformational Seller!