Sell From Love™

Love Youself, Love Your Client, Love Your Offer
A three-step framework built on authenticity, empathy, and purpose. When you Sell From Love, you will shift from transactional to transformational selling.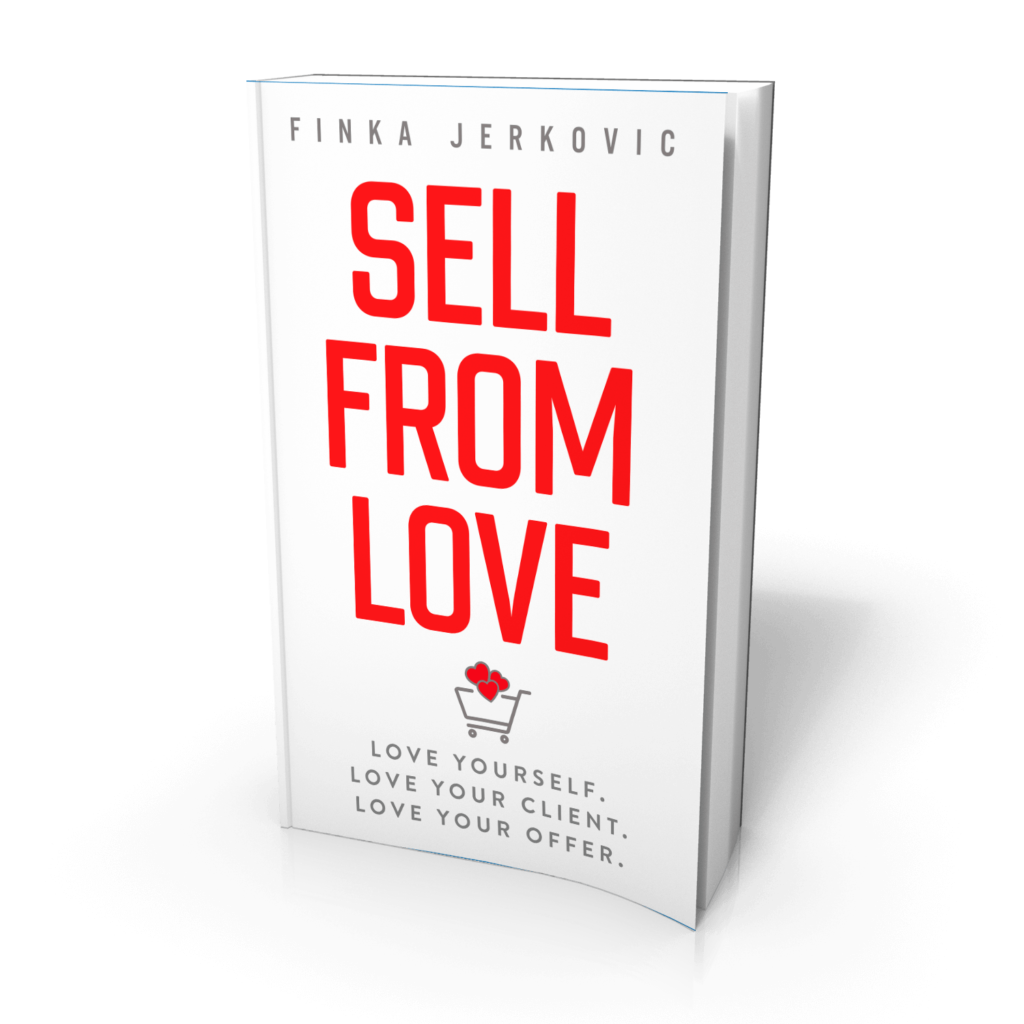 "When you sell from love, you're generous and you strive to give your clients the best options. Their interests come first. Selling from love doesn't mean that fear is not present at times; what it means is that you don't let it stop you from moving forward. Sell from love means you act with courage and non-attachment to a specific outcome. When you sell from love, your road to success is wide, open, unscripted, and organic."
– Finka Jerkovic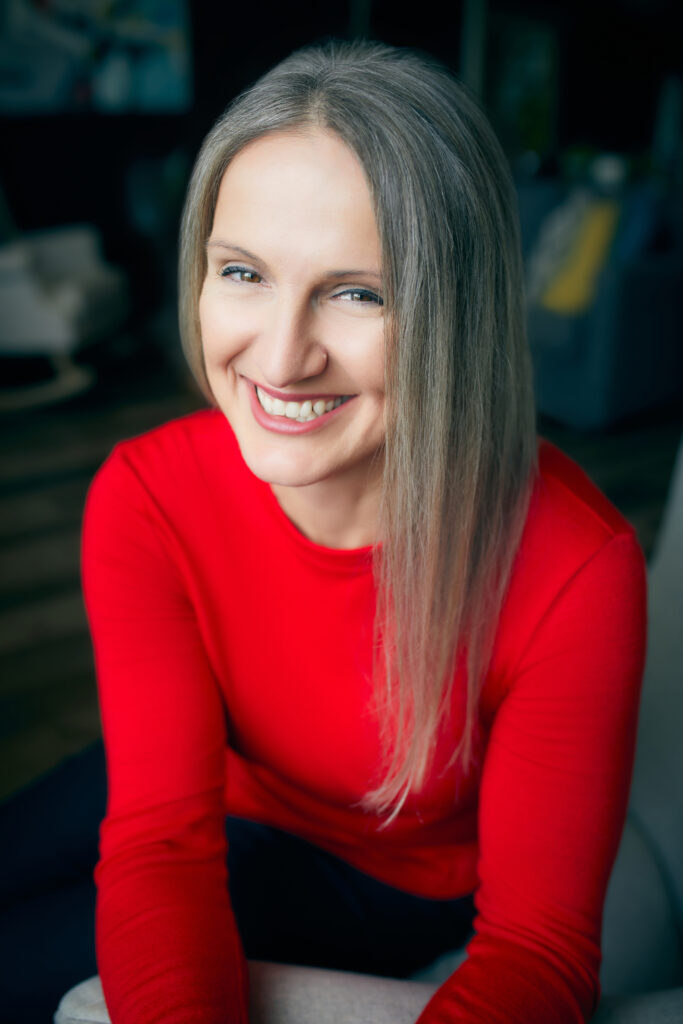 Selling can be uncomfortable, uneasy, and at times awkward.
Traditional, always be closing, crushing quota methods only add to the pushy, icky discomfort of selling.
But it doesn't have to be that way.
Selling doesn't require pressure tactics, false urgency, shameless self-promotion, or mosquito-style persistence. This type of selling emerges from fear. It's self-centric, limiting, and transactional.
Sell From Love is the other way. It's the better way.
Sell From Love is a three-step framework that is inspired by authenticity, empathy, and purpose. When you sell from love, you will shift from transactional selling to transformational selling.
The practical, immediately implementable ideas and solutions in this book will help you remain dedicated to your commitment to Sell From Love.
Once you start applying the insights to your leadership style and business, you'll immediately gain more love for yourself, love for your client, and love for your offer – all while learning from real-life examples and Sell From Love success stories.
Sell From Love will teach you how to:
Praise for Sell From Love
"Finka's book absolutely transformed the way I approach selling and marketing. Her ideas and techniques - and most of all her transmission of confidence and, yes, love - will change how you sell forever. Read this book and then put it to work for you."
- Jennifer Louden -
best-selling author of Why Bother? Discover the Desire for What's Next
"This is a read right now book! Finka answers why we have a growing resistance to fear-based selling. She provides an irresistible and practical framework that tosses fear to the curb and opens our hearts to embracing wholehearted and sustainable growth. This book will revitalize you, and your business – as love does! Prepare to be transformed!"
- Janet Lee -
CEO and founder The Story Co.
"I could not put Sell From Love down. At first it felt uncomfortable to think about 'love' and 'selling', but you quickly realize the examples and practical tools make so much sense. This is a necessary read for anyone dealing with sales and relationships and isn't just for your clients - this will transform you personally. As a leader the takeaways and understanding you will gain to manage a team are unlimited. Finka, you are a trail blazer!"
- Sheri Griffiths -
Senior Vice President, Head of Ontario, Canadian Commercial Banking
"For those of us who care about others and want to make a meaningful difference in the world, Sell From Love is the heart-centered sales strategy we've been searching for. Practical examples and engaging stories bring the book's simple processes to life, demonstrating a clear path to natural and fulfilling client relationships. Jerkovic practices what she teaches, making this work authentic, powerful, and effective."
- Andrea Joy Wenburg -
M.A., author, speaker, and founder of the Voice of Influence® consulting agency and podcast
"Selling from Love may sound like a soft approach, but it is actually a roadmap of the rigorous work of building inner trust while illuminating the path to moving from transaction to transformation—of yourself, your story, your way of showing up, and your performance. Whether you're a seasoned sales professional or a new solopreneur who dreads sales, you'll find this rich and substantive book an inspiring guide to the satisfaction and sustainability that come from being true to yourself and wholly aligned with what you bring to the world."
- Gail Larsen -
author of Transformational Speaking: If You Want to Change the World, Tell a Better Story (Random House and Brilliance Audio)
"I have read almost every sales book you can possibly imagine. You name it, I've probably read it. Finka's book Sell From Love offers a totally different perspective on selling than everything else out there. In the book, she helps you to remove what is stopping you in your sales game so you can become much more effective for you, your business and, most importantly, those you serve. For anyone who is looking to improve their sales and make a difference, Sell From Love offers a new perspective that changes the paradigm of how selling should be. If you are someone who has a message, wants to make an impact, and wants to make more sales, you need to start selling from love. And this book gives you the step by step instructions on how to do just that!"
- David Keesee -
author, The Find A Way Book, creator of The Find A Way Code 30,000+ TRAINED | 3,000+ COACHED | 15X RESULTS
"Sell From Love is a labor of love. Finka simply guides the reader through changing the focus from fear to love. This allows a salesperson or anyone, for that matter, to focus on all the right things about the client-salesperson interaction. Instead of being adversarial, the sales process becomes transformational. This complete step-by-step model helps anyone shift the sales process from being a fearful burden to one of grace and elegance."
- Susan Stageman -
M.A. President, NLP Training Concepts, LLC, Master Practitioner/ Master Certified Trainer, Society of Neurolinguistic Programming
"Just as the world turned upside down and business leaders were forced to adapt to new ways of approaching work, Sell From Love came in like a beacon of light. Finka's thoughtful, practical, and inspirational process is exactly what is needed to keep driving results while also remaining conscious of how we go about obtaining those results. Spending endless hours sleepwalking through business, fueled by the fear of failure, is a thing of the past. When you embrace your distinct value, approach clients from a place of genuine service, and believe your offer will solve your clients' problems, you can sell from a place of love, not fear. It is a welcome ideology refresh for strategically selling products, services, and even ideas, which is why now, more than ever, Sell From Love is needed in businesses worldwide."
- Amber Hurdle -
author, speaker, podcast host, and CEO of Amber Hurdle Consulting
"Sell From Love provides a fresh perspective and practical tips on how to be a successful sales professional in today's business world. Finka takes a holistic approach to sales, focusing first on "love yourself", and ultimately proving you can be a good person, do good work and make money doing it. I highly recommend this book for sales professionals and sales leaders alike."
- Doug Palmer -
former Regional President Business Banking, Bank of Montreal
"Sell From Love will give you the courage to consistently show up for your clients every day. Finka helps readers identify the barriers and fears that get in their own way and provides real insights, actionable ideas, and helpful exercises to help any entrepreneur find their Brilliant Difference and love for selling. The reality is today's business environment demands fresh ideas and perspectives. This book delivers and will empower you to sell in a new world!"
- Sandra Corelli -
founder and CEO, Humanicity Consulting Group
"LOVE THIS BOOK!! As a life-long entrepreneur it's easy to get caught up in "chasing the sale". Finka's Sell From Love philosophy reminded me that selling is an extension of who I am and how I can help people. The second I forget this, I end up with clients I don't want and dollars I'd rather not have. It's that simple. When you bring your best self to the table, you attract the right clients and your offer is a solution that solves their problem. It's the best feeling to live this way in my business."
- Heather Korol -
founder of Master Your Message, author of A Slice of Happy.
"Sell From Love is a must-read for every entrepreneur! In this book, Finka Jerkovic takes you through her signature process and teaches you how to tap into your Brilliant Difference and think of sales in a totally different way. The book is packed full of powerful stories, examples, and takeaways that will help you sell (share your gifts with the world) from a deeper, more meaningful place. You'll not only walk away with a new perspective on sales, you'll have a powerful framework that will transform how you connect with potential clients and share the transformation you offer."
- Laura Beauparlant -
founder and creative director, Lab Creative, author of Brand Chemistry
"With Sell From Love, Finka Jerkovic challenges all of our assumptions about sales and invites us into a more human, more creative approach to closing the deal. What's more, Finka's approach to sales helps us see ourselves with the capacity--even the responsibility--to make a truly positive impact on the people and communities we love. Oh, and it works, too."
- Tara McMullin -
founder of What Works
Interested in purchasing multiple copies of Sell From Love for your leadership team, sales team or colleagues? Fantastic! I can assist with bulk orders. 
Bring Sell From Love to Life
In addition to the book, I offer customized Sell From Love workshops, keynotes, and coaching programs for your team or organization. Through a high-energy, interactive delivery, I bring the concepts in the book to life with your team and clients. Workshops, keynotes, and coaching programs can be delivered in person or virtually. To learn more, book a discovery call.