Are you tired of getting your knickers in a twist when prepping a sales proposal or presenting one? Do you trudge through stress, anxiety, and uncertainty, hoping your proposal deck hits the mark? Are you left writing a question mark, your inbox a ghost town, never hearing back from a client? If you answered yes to any of these questions, then you're in the exact right space. In this blog, I'll peel back the layers, revealing five common proposal presentation mistakes to avoid, so that you can ditch the stress and breathe a sigh of relief when you create a transformational client journey and a closed deal.  
1. Not Making Your Client the Hero of the Story
I don't actually mean putting the word "hero" in your presentation, I mean making your proposal client-centric so that the content resonates with them. Oftentimes (and I have been guilty of this), we get caught up in ourselves, shoving our offer, product, credibility, and company down clients' throats. This information is an important part of the puzzle, but it doesn't outline the problems you aim to solve for your client and the goals you want to help them achieve. Once you make this connection and give them the opportunity to collaborate, placing them at the centre of your presentation, then they'll care about all the other information.  
2. Presentation Environment Isn't Safe for Decision-Making
In relation to the above point, when you pave the sales process road around you, your company, and your offering, this doesn't make for an easy or safe decision-making environment for your client. And at the end of the proposal, you want them to make a decision. You want to hear, "Yes." By having a presentation with you as the focus, your deck will most likely miss the mark with your client, or they may not feel understood. As a result, they may need extra time to make a decision, or you may not hear from them at all. 
3. Presenting the Service or Product Right Away
Of course, your client wants to hear about your product or service, but a sales proposal is much like a first date, and no one wants dessert before the main course. Well, not in this case. Think of the main course as the storytelling portion, painting an image of the problems you'll solve for your client and your plan to help them achieve their goals. Think of the dessert as the critical details of the product or service and its features. Why would your client want to be bogged down by details before establishing if the product or service will actually help them in the first place? As tasty as dessert is, when it comes to sales, stick to the main course first.  
4. Not Making the Proposal Sticky
Humans are emotional. We thrive off relationships, connection-building, and storytelling. While humans find facts valuable, we actually resonate with stories more, as they evoke emotion within us. And when humans feel emotions, no matter which one on the spectrum, they will remember that moment. While important, if your presentation is flooded with statistics and data points, your client's eyes may glaze over. Instead, intertwine real-life stories that they can relate to. When they feel this relation, this emotion, your content is more likely to stick, and you're more likely to hear, "Yes." 
5. Not Making the Presentation Personalized
You may be thinking, "Wait a second. Didn't you tell us to not make the presentation about us?" 
Let me explain. What I don't mean by personalized is not making the presentation all about you. What I mean is (remember those stories we just talked about?) integrating personal stories from your own sales experiences with other clients. The good, the bad, the ugly. Show the client your personal wins and successes. You can show them a faux pas too but ensure to highlight how you grew from it and how this obstacle benefited clients down the road.  
You're human. So is your client. No one is infallible, so being real and showing up authentically will not go unappreciated.  
Implement These Sales Proposal Presentation Best Practices
There you have it. Sales proposal presentation mistakes staring you right in the face. If you recognize some of these in your own workflow, it's okay! There's no need to get down on yourself. We're all constantly learning and improving. Remember: 
Position your client as the hero of the story/presentation.

 

Prime the environment for effective decision-making.

 

Wait to present the details of your offer until you take the client through their transformation journey.

 

Make your proposal sticky.

 

Get personal with stories.

 
Wishing you the best of luck with your next sales proposal! If you need extra support, download my Transformational Selling Proposal Framework. It includes a plug-and-play workbook, infographic, and PowerPoints to guide you in the transformational direction of sales proposals.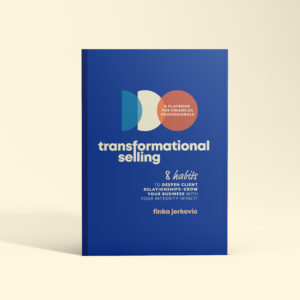 Have you checked out my new book yet?
Transformational Selling: 8 Habits to deepen client relationships + grow your business with your integrity intact!
This book offers you eight habits that will help you:
Unlock the power of Your Brilliant Difference
• Stop letting fear get in the way of your business development activities
• Feel authentic and aligned to your values every time you sell
• Create invitations and ask for the business with confidence and integrity
• Establish a people + purpose = profit mindset
• Build a financially sustainable business you and your clients will love
You can get your copy here.
If you're ordering more than one copy, be sure to take advantage of these special book bonuses. Learn more about them here.
I can't wait to hear from you and the stories you'll share because you've chosen to become a Transformational Seller!