As an entrepreneur, you may crave an expert's guidance in sales and business strategy, but you may not have the capacity to hire a full-time, in-house team member. You want to grow your revenue as much as possible—not lose it. This is where hiring a fractional chief sales officer (CSO) could come in handy. Continue reading to learn what a fractional CSO is, how this service can benefit you, and how Sell From Love Coaching acts as a fractional CSO but with extra special, exclusive components.  
What is a Fractional CSO?
A fractional CSO is a sales expert you partner with part-time to offer you guidance in building your revenue, designing a thriving pipeline, targeting new market opportunities, and enhancing your customer acquisition, to name a few.  
When choosing a fractional CSO to guide your business to profit and growth, you should choose someone with years of experience and a proven track record of success, such as Finka Jerkovic. 
How Can a Fractional CSO Benefit You?
As mentioned before, hiring a fractional CSO vs. a full-time sales employee can save you money, making it easier for you to hit your revenue goals. 
Having a sales specialist to lean on allows you to tap into years of knowledge and expertise without wasting time experimenting or researching.  
The Sell From Love Coaching Special Sauce
When you sign up for the Sell From Love Coaching program, you can access the benefits above and then some. Not only will you grow your revenue faster and have access to years of expertise, but you'll also have access to coaching from Finka Jerkovic. Including a coaching element goes above and beyond providing strategy tips. It keeps you motivated on the days when you feel like giving up. It renews your belief in yourself, your offer, and your clients, so you can grow your brand and generate new ideas. It uncovers the distinct value you bring to the table so that you can get excited about every stage of selling. 
While motivation is one ingredient of the Sell From Love Coaching special sauce, the other is the Sell From Love Philosophy: 
Love yourself.

Discover your true value, hone it, and incorporate it into your advantage in your sales process.

 

Love your customer.

Put your client at the heart of everything you do. 

 

Love your offer. Recognize the true value of your offer by extending your personal value into it.  

 
Every session you participate in and every resource you consume will guide you from selling from a place of fear to a place of love, helping you become a transformational seller. This philosophy is unique to Finka Jerkovic and you cannot access this sales method anywhere else.  
What is Sell From Love Coaching?
Sell From Love Coaching is a year-long program where you get access to: 
An inclusive community of like-minded professionals. 

 

Bi-weekly group coaching sessions with Finka Jerkovic and other ambassadors. 

 

Private coaching sessions with Finka Jerkovic. 

 

Sessions that will have you writing compelling copy that attracts customers.

 

A yearly training and sales planning retreat! 

 
This year's Sell From Love Accelerator Annual Retreat is coming up (November 28-December 1). This is an elite way to enter your Sell From Love Coaching journey and ramp up your sales pipeline so that your business can thrive in 2024. 
Simply click the button below to register for the retreat and coaching program!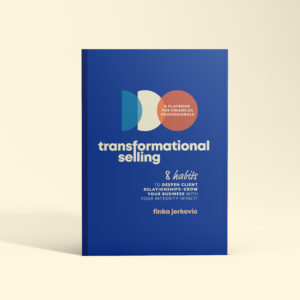 Have you checked out my new book yet?
Transformational Selling: 8 Habits to deepen client relationships + grow your business with your integrity intact!
This book offers you eight habits that will help you:
Unlock the power of Your Brilliant Difference
• Stop letting fear get in the way of your business development activities
• Feel authentic and aligned to your values every time you sell
• Create invitations and ask for the business with confidence and integrity
• Establish a people + purpose = profit mindset
• Build a financially sustainable business you and your clients will love
You can get your copy here.
If you're ordering more than one copy, be sure to take advantage of these special book bonuses. Learn more about them here.
I can't wait to hear from you and the stories you'll share because you've chosen to become a Transformational Seller!