"New year, new me, new habits, new goals," you say to yourself as you return to the office in January. Drinks were shared, time was spent with family, you were able to unwind and relax, but now it's back to the grinding board to continue filling your sales pipeline and hitting sales targets for the new year. With a fresh level of excitement, reviewing past goals, and setting clear new ones, you feel confident about the year ahead.  
You've got revenue in the bag.  
But then January turns into February, and before you know it the frost melts and the sun shines to welcome summer.  
Ah, summer. Another perfect season to take a break from work and reset your productive clock. Once you return from the sandy beaches and palm trees, you refocus on your daily tasks.  
You plow through task after task after task until the air turns crisp and the leaves on the trees are no longer green, but a toasty orange. 
In the blink of an eye, fall has arrived, and that goal you set in January feels like a distant dream. So, how do you get back on track to making that a reality? You can do so by avoiding these six sales target faux pas (mistakes).  
Don't get down on yourself. I know that when you take a step back or miss the mark on a project it's so much easier to scold yourself and talk poorly about yourself than it is to process what happened, accept it, and move forward. But once you start down the tunnel of negative self-talk, it can be a struggle to break out of the spiral. It's okay to feel bad or defeated, but you shouldn't berate yourself, as it can actually prevent you from continuing to reach your goal.  
According to Very Well Mind, "Negative self-talk can lead to a lowered ability to see opportunities, as well as a decreased tendency to capitalize on these opportunities." 
Process your emotions, accept them, and move forward, so that you can see the rest of your months as a new opportunity to reach your sales target from a place of transformational selling.  
2. Not Being Clear on Your Goal
So, you're short of hitting your goal and sales target as of right now, but how you react is what counts. Don't continue getting caught up in your daily tasks and aim for the same goal. Instead, zoom out and analyze that goal you set in January. 
Can you make it more specific?

 

Is it tangible to achieve with the time you have left in the year?

 

Does it still serve you and your business' mission?

 

Does it bring value to your clients?

 
Maybe falling short of your mark right now could be a blessing in disguise. Re-evaluating what you were aiming for at the beginning of the year can help you pivot to a clearer, more precise goal that better aligns with the business as a whole.  
Now you have a new goal in mind that is better for you, your company, and your clients, but how will you reach it?  
With habits. 
I was scrolling through social media one night and found this one quote from Scott D. Clary that stuck with me: "The best way to motivate yourself is not to set goals, but to create habits. Goals are outcomes, habits are processes." 
Your goal is what you would like to happen (arriving on a secluded, resort island) and your habits are what will help you get there (saving 15% of each paycheck for 2 years, booking an airplane, taking a ferry to the island, etc.). 
So once you set the goal, write out three or four ways/habits you'll take to achieve it. This will form your plan.  
For example, if your goal is generating audience awareness, then maybe you will polish your LinkedIn profile and form a consistent publication schedule. Or maybe your goal is changing five clients in your sales pipeline from a New Opportunity to Active Opportunity. A habit to achieve this could be using creative follow-up techniques to nurture your prospects who are in the consideration stage. 
The more specific your goal is, the easier it is to narrow down habits to achieve it.  
4. No Business or Team Alignment
Before you take strides toward this new goal, meet with your teammates and get their input. Brainstorm your situation and goal with them to ensure it aligns with the business' mission and their own goals. They may also have alternative ideas that could help you achieve your goal and see things from a different perspective. If you don't work with a team, turn to a friend in your industry who you can run your idea by. Getting someone else's opinion can give you a new outlook and help affirm your confidence and skills.  
5. No Tracking System in Place
You've set your new goal. Check. You've created tangible habits that will help you achieve it. Check. You've gotten insight from your team or other industry professionals. Check. You start putting your plan into action. 
Congrats! 
But make sure you have processes in place to measure the success of your habits. By measuring the success of your habits, you can predict if your habits are working and if they will lead you to your goal by the end of the year. It also allows you to see what's not working so you can substitute a habit for something more effective.  
For example, let's go back to that awareness generation goal on LinkedIn. You can measure your posts' interactions and impressions. You can also measure your following count. To track the status of people in your pipeline, use a system or software to track their details and tasks you need to do for the client. Without a system in place, you will forget about the client and which stage they're at.
Be consistent. When you follow up with a client and they respond within a day or two, but then they don't hear from you for a month, it looks bad and builds distrust. They may not take you seriously when you remember to engage with them again, or they may even forget about your offer and mission. Posting consistently for one month on LinkedIn and then barely posting for three months will not get you the results you want. It takes time to build awareness, not only with your followership but New Opportunity clients too. Being consistent keeps relationships and opportunities alive.  
What to Do to Hit Your Sales Target for the End of 2023
Follow these six steps to help you reach your sales target by the end of the year: 
Fill yourself with positive self-talk, hope, and encouragement. 

 

Review your previous goal and make a more specific, tangible target if needed.

 

List three or four habits you will take to reach your target. 

 

Brainstorm your target ideas and habits with teammates or trusted industry professionals. 

 

Have the right systems into place to measure the outcome of each habit. 

 

Be consistent and new give up!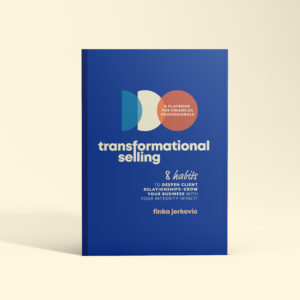 Have you checked out my new book yet?
Transformational Selling: 8 Habits to deepen client relationships + grow your business with your integrity intact!
This book offers you eight habits that will help you:
Unlock the power of Your Brilliant Difference
• Stop letting fear get in the way of your business development activities
• Feel authentic and aligned to your values every time you sell
• Create invitations and ask for the business with confidence and integrity
• Establish a people + purpose = profit mindset
• Build a financially sustainable business you and your clients will love
You can get your copy here.
If you're ordering more than one copy, be sure to take advantage of these special book bonuses. Learn more about them here.
I can't wait to hear from you and the stories you'll share because you've chosen to become a Transformational Seller!