We live in an era where it often feels like marketing and sales go to battle, and whichever team wins remains superior. It's convoluted and outdated. Marketing is sales, and you can't have one without the other, so instead of pinning the sectors against one another, make them work in harmony. This combination is what I like to call sales enablement. Marketing is like extending an olive branch to your audience, generating awareness, purpose, and value. When your message finally sticks and they take your olive branch, that's when sales can step in with sales proposals. But you need to intrigue your prospect to take that olive branch in the first place, which is essentially the role of marketing. Continue reading to indulge in six marketing tips that will help you fill your sales pipeline.  
I'm sure you've heard the saying, "Consistency is key." Well, there's a reason this saying has become a staple in our society. It's truly an essential element for any area of growth in your life. For sales and marketing, consistency is the key to unlocking prospects to become active clients. 
For example, let's say your bank comes out with a new retirement savings account package. Only telling your client about it once won't do anything. After they make their deposit or pay a bill and walk out that door, they'll be thinking about what's next on their errand to-do list. Or maybe you're a career coach and you've just launched a new service. Posting about it once on LinkedIn won't have the desired effect you're looking to achieve. You need to post about it again and again. 
According to Mission Minded, "Long-standing research in advertising tells us that it takes three to seven impressions before a message registers." 
So, while it may feel like you're shooting blanks with your client conversations or social media posts, you're actually cultivating traction by being consistent. Eventually, your consistency will pay off. Your client will say, "Yes," to that new account or you'll get your first sign-up for your new service. It takes time for your message to stick, but it will be worth it in the end. And when you hit the target? Bliss.  
2. Bring Authentic Value to the Table
Much like Transformational Selling™ centres around bringing your unique value to the table for clients, you should be transformational with your marketing too. Transformational Selling™ focuses on taking your customer on a journey of who they get to be and what they will have by working with you. It's not about what you get from having the conversation with your client; it's about what you're able to give them. Every piece of content you publish, whether it be an email or a social media post, should have the same effect.  
While this is one part of bringing authentic value to the table, the other part in injecting your personality. The beauty of humanity is that we each have a different personality, so we view and communicate things in different ways. Use this to your advantage! Find ways to tell stories and showcase your content from a place of your authentic personality, and your message will come across as unique, making it more memorable for your audience!  
For example, I recently compared the sales process to gardening, because I'm an avid gardener! Make your content unique and memorable that aligns with your brand and audience.  
Repurposing your content aligns well with tip number one: consistency. Let's say you post a blog on your LinkedIn and you don't know what to share next to build your traction. Well, you can share your blog in an email, make an infographic from it, or make a storytelling post from it. With these three additional and different ways of sharing your same message, you're more likely to resonate with a client while expanding your awareness. 
4. Be Active on Platforms Where Your Audience Spends the Most Time
With so many social media platforms, you may feel forced to post your content to every single one of them, but this could actually be doing more harm than good to your marketing efforts and sales pipeline.  
Analyze your social media channels to see where your target audience spends the most time and where they're the most engaged. If you have more engagement and followers on LinkedIn than Instagram, then try focusing all of your efforts on LinkedIn. If people who follow you on LinkedIn also follow you on Instagram, and they see the same content on both platforms, they could experience content fatigue and could stop engaging with you altogether.  
A way to combat this is also analyzing each platform to see what its dominant persona is. For example, if my LinkedIn page has more people in the financial services sector and my Instagram page has more people in entrepreneurship, then I can make different content for each platform.  
The bottom line is: be a transformational marketer so you can be a transformational seller and grow your sales pipeline. By being consistent, adding authentic value, repurposing your content, and spending time where your target audiences are, you're building a foundation of sales success for your business. Remember, marketing takes time and pays off in the long-term. Slowly but surely, and with consistency, these habits will allow more people to trickle into your sales pipeline.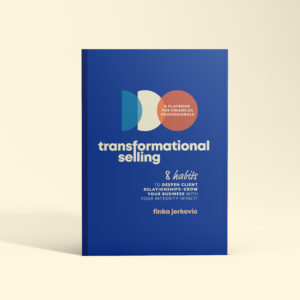 Have you checked out my new book yet?
Transformational Selling: 8 Habits to deepen client relationships + grow your business with your integrity intact!
This book offers you eight habits that will help you:
Unlock the power of Your Brilliant Difference
• Stop letting fear get in the way of your business development activities
• Feel authentic and aligned to your values every time you sell
• Create invitations and ask for the business with confidence and integrity
• Establish a people + purpose = profit mindset
• Build a financially sustainable business you and your clients will love
You can get your copy here.
If you're ordering more than one copy, be sure to take advantage of these special book bonuses. Learn more about them here.
I can't wait to hear from you and the stories you'll share because you've chosen to become a Transformational Seller!