B2B—business-to-business. B2C—business-to-customer. These are common categories we file our marketing and sales efforts into. You either sell to customers, or you sell to fellow businesses. But who you really sell to is humans. So, let's rewrite it to H2H—human-to-human.   
Before your customer is a buyer, they're human. The businesses you partner with? They all function from talented efforts of humans. And sometimes it's hard to remember, but you're also a human before you're a seller, financial advisor, banker, or entrepreneur.  
And what comes with being human? Doubts, fear, uncertainty, imposter syndrome. Not only will you experience these low moments, but your customers can too. You can have days where you feel like your efforts and abilities aren't enough for whatever reason—you're not hitting your revenue goal, your LinkedIn engagements have declined, you received a "No," after a proposal. Your confidence is at rock bottom.  
But when you know who you are, what you bring to the table, and how you change people's lives, and when you can go back to these elements of your sales moral compass, it's easier to pull yourself (and your customers) out of the crevice. 
And it starts with defining, what I like to call, your Brilliant Difference™.   
What is Your Brilliant Difference™?
Your Brilliant Difference™ is a term I created for one of my corporate workshops: Your Brilliant Difference™. It's a hidden gem tucked inside of you that you can pull out on your "worst" days to remind yourself of the value you bring to the table.  
Your brilliance:

A compilation of your talents, gifts, personality, skills, knowledge, and experience. Your brilliance is unique to you and is different from others. It is what makes you special. 

 

Your difference:

The brilliant, unique, distinct package of you-ness and the value you add to make a meaningful difference to those you live and work with.

 
Your Brilliant Difference™ makes up: 
Who you are.

 

The impact you deliver.

 

Who others get to be because of who you are and the impact you deliver. 

 
How to Create Your Brilliant Difference™ Signature
Your Brilliant Difference™ Signature is made of two words: one you use to describe your brilliance and one you use to describe your difference. Together, they form your sales superpower (what makes you you in sales). 
Here are some examples from my clients: 
Brand Strategist — Illuminating Visions

 

Financial Advisor — Bold Ambitions

 

Sales Trainer — Relentless Skill

 
To create your own Brilliant Difference™ Signature and uncover your sales superpower, download the free Signature Sales Style Blueprint.

It's

time to define how you sell in alignment with your unique value.
Your Brilliant Difference & Your Signature Sales Style
When you define your Brilliant Difference™, you can uncover your Signature Sales Style: how you best sell with your communication and leadership strengths. 
Knowing and honing your Brilliant Difference™ and Signature Sales Style allows you to become a more holistic, authentic seller, as you can stay true to your values and the impact you want to deliver. And this is exactly what businesses and clients are seeking.  
According to Forrester, "Forrester's data shows that 71% of US consumers say that they can relate to authentic brands and therefore want to back them, and 70% report that authentic brands give them a 'stronger feeling of confidence.'" 
When your customers can relate to you and cultivate a sense of confidence from you, you're more likely to build a long-lasting partnership that will fuel your pipeline from loyalty and referrals. 
The Benefits of Understanding Your Signature Sales Style
By understanding how you communicate, think, and react, you can uncover your problem-solving behaviours and strengths and generate a replicable process for every obstacle. This saves your business time and keeps productivity flowing. 
2. Understand How You Communicate
Not only will you identify how you best communicate, but you can become a stronger influencer too, as you'll know how to speak to your customer's pains and dreams. Stronger communication and influence mean your customers will trust and relate to you more. In turn, they're more likely to partner with you and refer your offer to their network.  
Sometimes thinking of new ideas that can benefit your business' productivity or your buyer's journey can be tricky when you're only hyper–focused on the business goal. By pulling back and reflecting on what you value for your business and customers and what you bring to the table, you can break the "thinking block" and come up with ideas that are unique to you. 
When you define and believe in who you are, the value you bring, and who others get to be from your value and offer, you cultivate confidence. Your newfound confidence will trickle into your customers. Customers actually see confidence as competency. So, the more confidence you exude, the more competent they'll see you as, meaning they'll be more likely to work with you.  
So, What's Your Sales Superpower?
Knowing what your sales superpower is (A.K.A your Brilliant Difference™ and Signature Sales Style), can help you: 
Build trust and credibility with stakeholders and customers.

 

Sell with ease, confidence, and integrity. 

 

Have your impact and influence recognized and rewarded. 

 
You're one resource download away from uncovering your sales superpower. 
Download the Signature Sales Style Blueprint, fill out the pages, and share your sales superpower with me through email (finka@finkainc.com) or tag me in a post on LinkedIn. I can't wait to see what makes you special and what you bring to the sales world!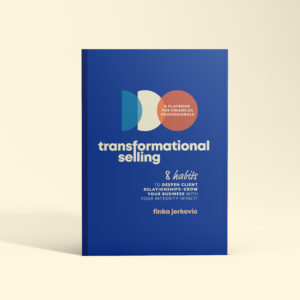 Have you checked out my new book yet?
Transformational Selling: 8 Habits to deepen client relationships + grow your business with your integrity intact!
This book offers you eight habits that will help you:
Unlock the power of Your Brilliant Difference
• Stop letting fear get in the way of your business development activities
• Feel authentic and aligned to your values every time you sell
• Create invitations and ask for the business with confidence and integrity
• Establish a people + purpose = profit mindset
• Build a financially sustainable business you and your clients will love
You can get your copy here.
If you're ordering more than one copy, be sure to take advantage of these special book bonuses. Learn more about them here.
I can't wait to hear from you and the stories you'll share because you've chosen to become a Transformational Seller!